Carboxytherapy is the Therapeutic Use of Carbon Dioxide for Skin Regeneration
When infused into the skin, CO2 immediately diffuses at the cutaneous and muscular microcirculatory levels, resulting in higher tissue oxygenation and neoangiogenesis. The blood vessels widen, increasing the transport of oxygen body tissues for cellular regeneration and anti-inflammatory effects.
It is a treatment that has been around since the 1930s, though the method of delivery has improved since then, with a gel delivery system, CO2Lift®!
Carboxytherapy uses carbon dioxide to stimulate blood and lymph circulation to the area being treated and improve circulation, elasticity, fine lines and wrinkles. The old way to administer carboxytherapy is by subdermal injection of CO2 with a thin high-gauge needle. This application causes little pain and discomfort and leaves minor bruising.
Today, topical carboxytherapy brings the benefits of carbon dioxide infusion without any injection required. CO2Lift® Carboxytherapy was developed to harness the human body's natural response to carbon dioxide.
Increasing the presence of wound repair factors and growth factors, which help cells "turn over" faster, reducing the appearance of aging, scars, stretch marks and more
Stimulating collagen and elastin production, which promotes elasticity and helps retain hydration
Improving local metabolism and elimination of waste products, which helps the body heal localized damage such as scars or acne hyperpigmentation
Regenerating and repairing damaged tissue to help clients achieve better looking and feeling skin
What is CO2Lift® Carboxytherapy Gel?
A take-home treatment created in 2015 that maximizes chair time and is proven to have similar results to injections.*
Beneficial to all providers: surgical, aesthetic, medical, and aestheticians
Powerful anti-aging and aesthetic solution designed for face, eyes, body and vagina.
Regenerates the vulva/vaginal tissue and reduces the symptoms of GSM.***
Effective for healing diabetic ulcers in as little as 4 treatments.****
Focuses on solving an individual's aging skin without the use of machines, aggressive peels, injections, or cosmetic surgery. 
Carboxytherapy Effects
Vasodilation*
Increase in Flow Motion*
Increase in Growth Factors (e.g. VEGF)
Increase in Microcirculation
Increase in Neoangiogenesis
Increase in tissular oxygenation/[PO2] Bohr Effect**
Neoprocollagenesiss
Correction of PH
Cleaning of the ECM for improved tissue health***
Biostimulation of the connective tissue****
Resoration of the microvascular-tissular unit exchanges*****
* Hartmann BR, Bassenge E Angiology 48:337, 1997 • Abramo AC Rev Bras Cir Plast, 2009 • Varlaro V Blood 2007
** Vacher, 1987
*** Maia-Figueiró TL, ODashire AN, Menezes GP
**** Ferreira JCT J Drugs Dermatol, 2008
***** Curri, Albergati, 1997
Not only do patients experience increased healing of their primary burns, they experience significant improvements to the appearance of their skin. 
Those improvements included:
Reduced fine lines
Improved wrinkles
Smaller pores
Firmer texture
The results were clear—cutaneous carboxytherapy gel had potential for powerful use in anti-aging skincare.
Mechanism of Action
The energy necessary for cell division and cell activation is produced by the increase of oxygen.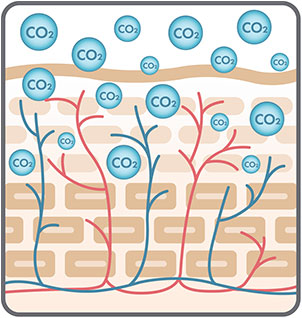 CO2 Skin Absorption
The absorption of CO2 leads to a deficiency of oxygen beneath the skin causing the body to supply more oxygen to the area.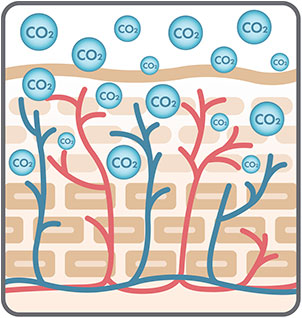 Expansion of Capillaries
Blood bringing the additional oxygen to the area causes the blood vessels to expand.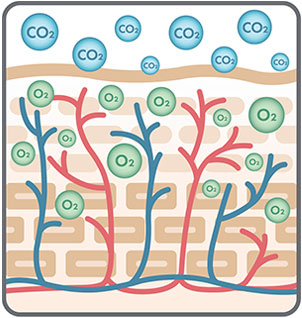 Supply of Oxygen and Nutrients to the Cells
This oxygen-rich blood supplies nutrients and immunoregulatory substances to the cells.
How Is the CO2 Created?
When the water in the large packet mixes with the gluconolactone in the small packet, it forms a mild acid. That mild acid mixes with the magnesium carbonate to form CO2. The resulting CO2 is absorbed into the skin in a unique, hypoallergenic, and mild treatment.