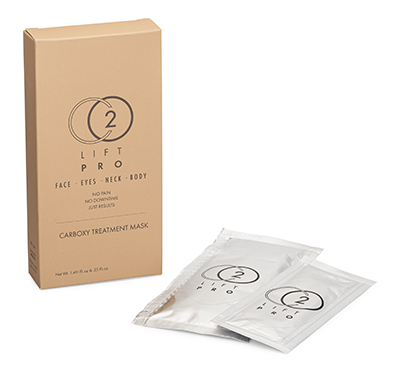 Lumisque Skincare presents, CO2LIFT a medical grade brand of cosmeceuticals that utilizes the powerful benefits of Carbon Dioxide to lift, tighten and regenerate the skin. The line includes a cleanser: a tablet that when dissolved in water cleanses the dirt from the skin without removing skin's natural oils; a moisturizer, that uses the powerful benefits of carbon dioxide to regenerate the skin with superior ingredients to nourish, brighten, hydrate and moisturize the skin; and a treatment mask which is an advanced super-hydrating at home procedure that helps solve aging skin problems without pain or downtime.
CO2LIFT
Clinically proven to safely improve the quality of all skin types!
Lifts  •  Hydrates  •  Rejuvenates
WHAT IS CO2LIFT?
CO2LIFT is a state of the art treatment from Japan, that is clinically and effectively proven to Lift, Hydrate, & Rejuvenate your skin. CO2LIFT will improve the quality of your skin to give you the optimal solution for your face and neck in staying youthful today.
WHY CO2LIFT?
You are now closer to having the skin you have always dreamed of with absolutely NO PAIN, NO DOWN-TIME or DISCOMFORT, and at a price truly AFFORDABLE, to give you the value you deserve today.
WHO CAN USE CO2LIFT?
CO2LIFT is GENTLE and SAFE enough for those with sensitive skin and recommended for both men and women of all ages. CO2LIFT can be used as an enhancement for post laser treatments or simply on its own to maintain your skin's desired appearance.
THE SCIENCE OF CO2LIFT
Lumisque introduces a unique technology that is simple in nature, which incorporates balanced and specific components to promote the proper penetration of carbon-dioxide through the epidermal layer of your skin. The treatment will then naturally stimulate the oxygen molecules in your body to be delivered directly to the skin on your face and neck that is being treated. In science, it is a known understanding that oxygen is the most critical aspect for cell metabolism and the success in proper skin care management.
BENEFITS OF OXYGEN
CO2LIFT enables proper penetration of carbon-dioxide through the epidermal layer of your skin to naturally stimulate the oxygen molecules in your body to be delivered directly to the skin on your face and neck, to help keep youthful skin.
HOW CO2LIFT WORKS?
VASODILATION
The addition of carbon-dioxide being delivered into your blood stream will promote the occurrence of vasodilation. As a result, this will increase the metabolism efficiency of your cells and improve the discharge of waste from your skin.
WASTE REMOVAL
The improvement in discharge of waste from your skin will reduce the inflammation which is a usual cause of such skin problems including acne, dryness, and water-retention. With the increased oxygen delivery to the skin being treated, the treated area will effectively fight off several forms of bacteria that attacks your skin on a daily basis.
BLOOD CIRCULATION
When carbon-dioxide gets absorbed into your blood stream, it will produce dioxide which will improve your blood circulation. It is a known fact that blood circulation is an important aspect of your body's sweat function and health. As a result, your skin will have an overall improvement in health and radiance.
RESULTS OF CO2LIFT
With the improvement of blood circulation and the efficient discharge of waste from your skin, you will experience an overall brightness and radiance to your face and neck. In addition, those with freckles and brown spots will also experience improvement in lightness to their skin tone.
ELASTICITY & FIRMNESS
Carbon dioxide promotes the activity of protein synthesis and as a result this directly improves the elasticity and firmness of your skin, improves your collagen production, reduces your fine lines and wrinkles, and overall improves the texture and smoothness of your skin which is important for proper anti-aging management.