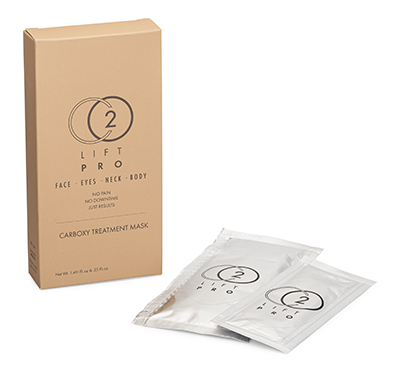 When Lumisque Skincare was founded in 2015, it caught the attention of the country's top dermatologists. At the 2016 Nashville SCALE conference, Dr. Wendy Roberts demonstrated how CO2Lift® regenerated the skin, and skincare professionals marveled at the transformation after only one application.
"I knew we were onto something huge," remarked CEO Lana Kerr. 
Dr. Brian Biesman, a respected Oculoplastic Surgeon, was in the audience that day, and he immediately decided to make CO2Lift® a part of his practice. In fact, for the first year of its life, CO2Lift® Pro Gel was only available to Core skincare professionals.
Early adopters of CO2Lift® have made it a staple of physicians' offices. In addition to improving skin health and appearance, many Physicians have used the CO2Lift® gel to successfully treat symptoms of eczema, rosacea, and lichen sclerosus, as well as serving as an effective pre- and post-procedure skin treatment.
CO2Lift® quickly became a hot celebrity secret and a must-have for red carpet events. Seeing how many people were excited about our product, the team at Lumisque decided to develop an at-home version of CO2Lift® Pro Gel. 
When we launched CO2Lift® Face, there was so much traffic that our website crashed just 10 minutes later! However, we quickly got the site back up and running, and in the years since that initial launch, we have added a variety of products to the CO2Lift® line, including a CO2Lift® carboxy-mousse, a defend HA serum with apple stem cells, and a glow facial oil.
It was around this time that Lana Kerr started exploring how CO2Lift®'s technology could be applied to vaginal restoration. Clinicial studies concluded that not only was CO2Lift® safe for use on vaginal tissue, but it was also effective in restoring youthful functionality. We created CO2LiftV® to help women everywhere feel confident in their V, without hormones and in the privacy of their own home.
At Lumsique, we're not satisfied with anecdotal success. We believe in our product, and we have supported multiple clinical studies to prove its efficacy. In our first study, a video capillaroscopy measured the CO2Lift® gel's action under the skin in comparison to traditional, injectable carboxytherapy. The capillaroscopy confirmed what we already knew: our CO2Lift® gel produces the same capillary dilation and increased oxygenation of traditional carboxytherapy–all without pain, needles, or anxiety. 
We have also published a study showing how CO2Lift® can be used in conjunction with procedures. The study found that CO2Lift® can be beneficial as both a pre-procedure and post-procedure skin treatment, accelerating the healing process and enhancing procedure results. 
Our most recent study double-blind study suggests that Lumsique's CO2Lift® gel was the only commercial carboxytherapy product to actually produce results!
We already have a long history of success, but we're just getting started! Our team is committed to finding ways that CO2Lift® carboxytherapy can change lives–not only preserving youthful skin but also reversing the effects of aging.
As Lana says, "I'm privileged and overjoyed to be a part of this industry, making people's lives better by helping them feel their best."