Skincare goals are synonymous with healthy and glowing skin and universally rank top of the mind. The texture of our skin is majorly influenced by external elements such as pollution, dust, skincare elements, and internal elements, including health and diet. One of the key components of youthful, healthy and ravishing looking skin is a naturally glowing skin. The dermatological tested products from Lumisque help you achieve that naturally glowing and youthful skin with their at-home treatments. The lifestyle we all are adapting to not just affects our overall health but affects the health of our skin too.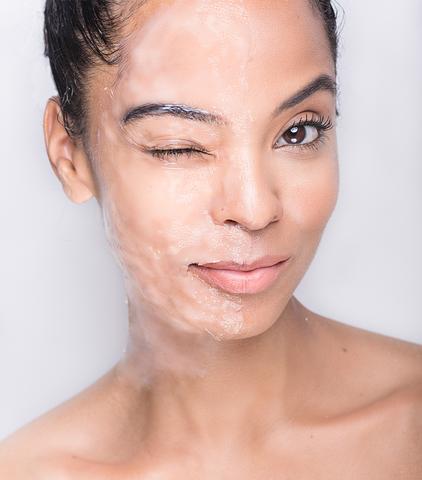 Let's have a look at some of the tips and tricks that will help you achieve a healthy, rejuvenated and glowing skin whenever you want.
Go To Bed With Clean Face 
Recommended by the best Dermatologists, it is necessary to remove the day's buildup of makeup, sunscreen, and sebum from your face before going to bed. A non-clean face can lead to dullness, breakouts and also eyelash breakage from the leftover mascara. If you are always on the go and feel too lazy to reach out to the sink for a complex cleansing process, you can also opt for a pack of non-rinse cleansing wipes beside your bed, so that you can easily wipe off your face before you sleep.
Ultimate Anti-Aging Treatments
Retinoids and Hyaluronic serum are every dermatologist's secret weapon to fight aging skin. The use of products with either retinoids or hyaluronic acid uplifts your skin by benefitting it with anti-aging, anti-acne and hydration properties. They boost the production of skin-smoothing collagen and leaves you with healthy and radiant skin. The CO2LIFT Hyaluronic Serum by Lumisque is an Elixir Of Youth, enriched with Hyaluronic acid helps the skin retains moisture, reduces the appearance of fine lines, and reveals a smoother and firmer appearance. It delivers a boost of hydration for a vibrant and healthy glowing skin.
Mega Moisturising
Moisturising is the key element for healthy-looking skin. The boost of hydration can transform your skin from pale-looking aging skin to healthy-looking youthful skin. Moisturizers with super-concentrated creams Hydrated skin leads to plumper looking skin which further equals to younger-looking skin. So to derive long term benefits you need to get your hands on good moisturizers. The CO2LIFT Carboxy Mousse Moisturizer compounds beauty components such as Pure Vitamin C and Linoleic Acid that helps you achieve a radiant, smooth and supple skin.
Change Your Sleeping Position
The way you sleep or the position you sleep in also reflects the health of your skin. Sleeping on your stomach or on the same side as your face pushes it into your pillow for long periods of time. Doctors recommend that sleeping on your back is the best way of avoiding wrinkles but if you are not comfortable with this position, alternate which side of your face you sleep on during the night.
At Home Mask Therapy
Beauty Regimes are incomplete without masking. It's more comfortable, convenient and effectively treats your skin. The CO2LIFT Pro Treatment Mask is the one that delivers carbon dioxide to your skin. The mask infuses your skin with the benefits of carboxytherapy but in a totally non-invasive way. The mask helps to boost moisture retention, which leaves your skin feeling soft and wonderful. The mask increases hydration, speeds up the healing process and also reduces fine lines and wrinkles.
Sleep Enough
Who does not love beauty sleep? Dermatologists say that beauty sleep is a scientific way of healing and replenishing your skin. According to them, the night is the time when our skin naturally regenerates itself. Disturbed sleep patterns cause a surge in the stress levels (cortisol)  which leads to the breakdown of collagen. So to restore and boost the collagen productivity you need to have a set sleep pattern that works both for your skin and health.
Always Tie Your Hair
Hair at times is the magnet for dirt and pollution. While sleeping if your hair is left open it will rub on your face and bedding making your skin susceptible to breakouts. This is the very reason dermatologists recommend pulling hair into a loose braid or ponytail before bedtime. In addition to this, you should also wash your face right up to your hairline. You should go off to sleep with clean hair as it will reduce bacteria buildup on your bedding.
Don't Forget Your Lips
A part of your face that you might neglect is your lips. And dry, flaky and wrinkly lips can age you quickly. To avoid this you can apply petroleum jelly or any lip balm of your choice for soft, supple and moisturized lips. And be kiss ready!
Keep Excess Salt At Bay
Before bedtime, too much sodium can cause your eyelids to retain excess fluid. For added care try to sleep on an extra pillow, which allows you to slightly elevate your head and prevent fluid from pooling in your skin.
Don't Forget Your Skin Between The Legs
Your healthy skincare is totally incomplete if you are not looking after your vaginal area. The vaginal issues tend to increase with stress, age, menopause, and childbearing. But CO2LIIFTV Take-home Vaginal Treatment Kit effectively treats your vaginal area without any pain. It increases lubrication, reduces painful intercourse, improves vaginal tightening and enhances the cosmetic appearance. Because the skin between your legs matters! 
Ultimately a healthy, younger-looking glowing skin depends on how well you treat it on the outside as well as inside. So eat healthy, live healthy! And do not wait for miracles to happen overnight. Keep patience and see how well your skin transforms with Lumisque !